Kenosha County Window Well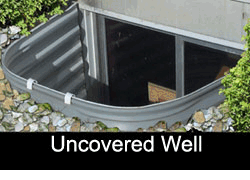 With over 150,000 people calling Kenosha County home, the need for maintenance, replacement or repair of window wells is trusted to only one company; Innerweld Cover Company. Celebrating over 30 years of business in the manufacturing, installing, and maintenance of Kenosha County window wells. Innerweld also serves Kendall, Racine, and all around the mid-West. The Innerweld Cover Company is the industry leader.
Utilizing the latest techniques in construction, manufacturing and installation, who else would the county rely on for the saftey of their loved ones? The protection of their homes? Innerweld provides custom installs (in most cases) of basement window wells, window well covers and egress ladders. They also provide the following services and accessories: Window Well Grates, Window Well Scenes, Replacement Windows, And More...
Has their already been damage done due to poorly installed window wells? Innerweld also provides Foundation Crack repair. They don't just patch it, they fix it. Need wholesale pricing? Innerweld can do that too. From curb expansion and diamond blades to their expertise with Kenosha County window wells, The Innerweld Cover Company is your source for reliability, integrity and knowledge.
To speak with a window well expert, contact Innerweld at 847-497-3009 or click here to fill out our simple form.