Walworth County Window Wells
It's a Saturday night in Walworth County. Winter hasn't started yet, there's no snow. There is a 50% chance of rain. So the questions you need to ask yourself are: 'Do your window wells look like this?' - 'Can they handle another Wisconsin rain/snow season?'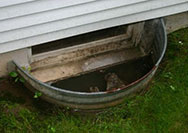 If it's time to protect your home from the elements then you need to contact the most trusted source of
Walworth County window wells
; Innerweld Cover Company. Over 30 years of specializing in professionally removing those old window wells and replacing with new, modern window wells.
Innerweld starts by measuring the width, projection and depth of your old window well and custom installs a new one on-site* for a perfect fit. They also offer other window well accessories like:
The 2in1 cover: a patented steel well cover with a removable topper
Escape ladders: for quick and easy exiting in case of emergency
Well scenes: bring a beautiful view to your basement
Replace that old window well before it causes damage to your basement, walls, or the entire home's foundation. Not only can these new window wells lower utility bills by putting an end to a drafty basement, it can beautify your home and increase its value.
When you're ready to upgrade, contact us today at (847) 497-3009 or
click here
for the industry leader in
Walworth County window wells
.
*in most cases